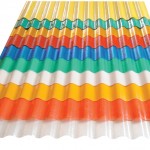 GRP plate is a contemporary product developed to be used at all roof and facade coatings which need natural light. It is resistant against interior and exterior effects, appropriate to all climate conditions, and is not affected from chemical environments.
GRP plates are composed of fiberglass addition and polyester resin and they are different from many similar materials with their features.
GRP plates are produced as transparent or opaque. Standard colors are white, green, yellow, blue, red and orange.
GRP plates can be used alone, or with onduline, corrugated plate, galvanize and painted sheet at sandwich panel system roof coatings.
YapıTeknik Group can realize all special productions with its specialist staff. Yapıser aims to give service to construction sector for long years with protective film coated plates, knurled plates, inflammable plates, GRP stream elements and rich accessory varieties.
Fiberglass additions increase resistance of products.